Aluminum scaffolding supplier UAE has gained substantial appeal in most building and construction applications during the past year for various reasons. Aluminum is the second most common material used in scaffolds after steel- this is not only because of its lightweight and mobile nature but also for being much affordable and reliable. Furthermore, it provides customers with quick and easy access based on their requirements. It is a temporary metal structure that serves as a platform for workers performing repairs, maintenance, and other construction work on buildings and other structures. Aluminum scaffolds can also be utilized during the construction of new structures to provide a safe surface for workers and builders to use their tools and supplies.
Our priority at Shahid Industries is safety, and it will remain a top focus for us. Towers are constructed in this manner. Erection is ensured, which keeps an eye on the workers' safety. Because aluminum is lightweight, it does not require a large number of people to install it. The procedure necessitates the participation of at least two people. Scaffolding made of aluminum does not rust easily. It has a lot of strength and can carry a lot of weight. It can be used for a long period if properly maintained.
When deciding on the best system for your company, consider what will save you the most money in the long term as well as what will take the least amount of maintenance. Due to its resistance to corrosion and rust in humid environments and weather, Aluminum scaffolding supplier UAE may require less maintenance than steel scaffolding. This lightweight system will also reduce wear and tear on the user, resulting in an increased passion for the product's construction and a longer physical endurance. New advancements in aluminum scaffolding and scaffold towers can help reduce project costs by lowering the number of components needed. These towers are becoming increasingly popular because of their adaptability, flexibility, and mobility.
Our Aluminum scaffolding is ideal for a variety of projects due to its ease of installation. This tower is preferred by many construction businesses because it is easier to set up and dismantle. Time is money, and reducing time means the job can be completed at a lesser cost or with a better profit margin. That is the reason it's critical to understand the advantages of each type of scaffolding system so that you can select the one that best suits your company's needs. It will aid you in ensuring that the scaffolding product you purchase meets your expectations. Shahid Industries is a name that conjures up images of quality, simplicity, and dependability. When you choose us, you know you're getting high-quality scaffolding that you can rely on. Our company can provide the appropriate scaffolding for your project. All of our products are inexpensive, durable, and light enough to simply transfer from job to job.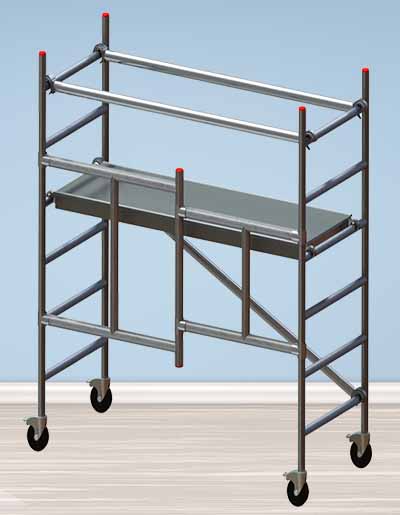 Shahid Industries is the largest scaffolding Manufacturer and Supplier in Abu Dhabi, Dubai, Sharjah, Umm al-Qaiwain, Fujairah, Ajman, and Ra's al-Khaimah, can meet all of your scaffolding demands. Claw back your initial investment by amortizing the cost of purchase of your scaffolding system. Rental or Hire Scaffolding is also a great way to get started.