Aluminum Podium Scaffolding
Aluminum Podium tower supplier UAE is different from other ladders but performs similar functions. It is designed to provide easy access and support to the operators. Unlike other ladders, a Podium Scaffolding Tower UAE has a large surface area to work on. Also, handrails and guardrails with lockable doors provide great support and huge space to the operator and allow him to move freely. From fitting to painting, our Aluminum Podium tower supplier UAE, Dubai, Sharjah is an ideal solution for all types of construction work.
Our podium scaffolding tower is designed for compact work areas and assures the operator's safety by adjusting locks at several locations. It offers a cost-effective alternative for a variety of construction projects, such as fitting, adjusting, electrical work, painting, and more. It is built on a wheelbase platform with easy access to the roofs and walls. The wheel locks provide complete stability and assurance at work, as well as convenient access without shunting. With the help of our podium tower, you can effortlessly transport tools and goods.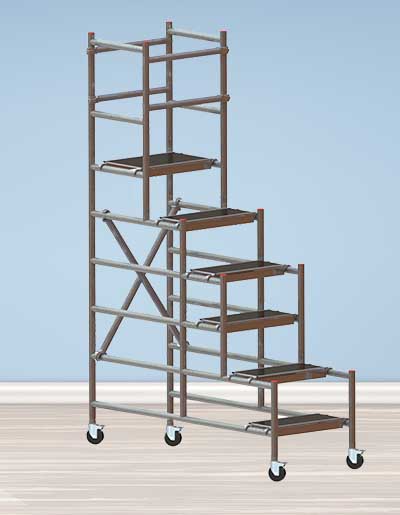 Hire Us For Scaffolding Services-
Shahid Industries never compromises on product quality and strives to provide the best possible experience to the customers. We are proud of our reputation as scaffold manufacturers for producing high-quality, long-lasting products. Because our devices are so simple to use, anyone can figure out how to utilize them.
Our scaffolding company offers a dedicated section with experts who collaborate to create unique scaffolds and find the best solutions for workers who work at heights. Our constant research into aluminum scaffolds will keep us on the cutting edge of technology. We never fail to meet the expectations of our customers in terms of quality and security. Contact us at any time to place an order for the goods you require. Shahid Industries is the largest scaffolding Manufacturer and Supplier in UAE, Abu Dhabi, Dubai, Sharjah, Umm al-Qaiwain, Fujairah, Ajman, and Ra's al-Khaimah, can meet all of your scaffolding demands. Claw back your initial investment by amortizing the cost of purchase of your scaffolding system. Rental or Hire Scaffolding is also a great way to get started.