Bridge Tower Aluminum Scaffolding UAE
Bridge Tower Aluminum Scaffolding UAE provides the customer with the flexibility to operate on a platform with a length of 9.0 meters by combining Aluminum Scaffolding Towers to speed up operations at working height. This Tower enables the user to work on a long platform with multiple personnel. Two double-width scaffolding towers are brought together to form this- by constructing a third double-width scaffolding tower in the middle. Our Bridge tower can be customized to meet the needs of the user, such as adding an access stairway on one or both sides of the aluminum scaffolding tower.
Shahid Industries scaffolding company's services aren't restricted to a single location. We have a team- that is completely committed to delivering the services you've requested while also continuing to expand. We've been fortunate enough to attract the best clientele from all around the world thanks to our superior products. Allow us the honor of providing you with the best service possible!!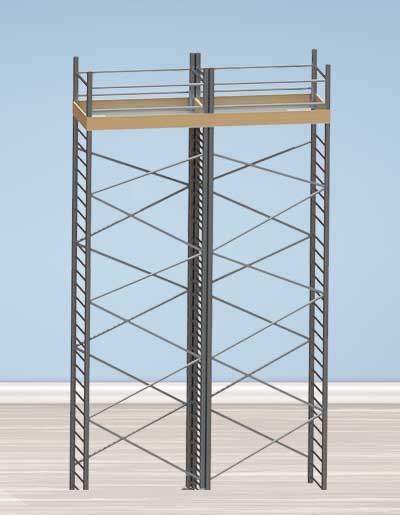 Technical Specifications:-
Length: 7.50 Mtr
Width : 1.45 Mtr
Height: 2.00 Mtr to 1.5 Mtr
Frames Height : 2.00 Mtr , 1.00 Mtr & 1.5 Mtr
Castor Wheels: 200mm with Jack & 150mm with Jack or without Jack
Wooden Platform = Standard Platform & Trapdoor Platform Maximum load per Platform 225 kg 225 kg and for the entire tower is 600 kg including tower