Stairway Mobile Cantilever Scaffolding UAE
Stairway Mobile Cantilever Scaffolding UAE is a distinct sort of scaffolding that is designed to extend from a structure. When there are barriers on the ground or small routes, this scaffolding is extremely useful. One of the primary advantages of this scaffolding is that it is very straightforward to install and time-effective in instances when the surface does not allow for a traditional scaffolding system. It is also cost-effective.
A single person can use an Stairway Mobile Cantilever scaffolding UAE to reach over barriers such as stairwells, garages, and porches. To ensure optimal safety, anybody working on the cantilever scaffolding must wear a safety helmet. Our cantilever scaffolding is resistant to all weather situations.
Shahid Industries has home and commercial scaffolding to meet our clients' job requirements. We also make modifications based on our customers' requirements. We are well-known for being conscientious and professional scaffolding product manufacturers. Our years of experience validate our clients' decision to work with us. Take advantage of our wide services at the most competitive costs!!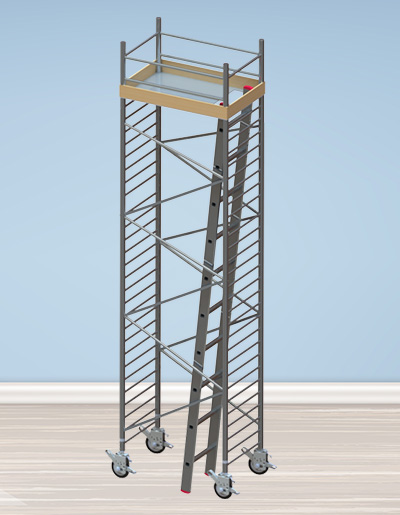 The Cantilever Scaffolds Towers allow the conversion of a double-width ladder span tower.
These towers provide access up to 1.m outside the cantilever tower frame to overcome obstacles e.g machinery, porches, etc.
2 platform length – 1800mm and 2500mm Toeboard system provides trip-free tower access Horizontal braces used as guardrails.