Steel Scaffoldings supplier in UAE
Steel scaffoldings supplier in UAE is temporary platforms that are either supported from below or suspended from above and are used by employees to accomplish operations at heights above ground level. Scaffolds of various types may be required for building and construction operations to allow for easy working. They can range from simple planks installed on structural components of a building to elaborate patent scaffolding. Many industrialists prefer it due to its high load-bearing capacity.
Steel Scaffoldings supplier in UAE made of steel pipes has mostly replaced traditional wood scaffolding. In the construction sector, they are commonly employed. These pipes are only suitable for full steel pipe scaffolding or as major poles in bamboo scaffolding. The temporary platforms made of pipes have anti-tiling properties, can tolerate movement, bounce, and include a fall arrest mechanism, making them suitable for high-rise structure construction. They are simple to assemble, easy to raise higher and downwards, have a high strength-to-weight ratio, and are suitable for a variety of heights and building designs. These characteristics enable them to be used as climbing scaffolds. In general, Shahid Industries make scaffolds out of hot-dipped, galvanized steel, which provides long-term corrosion resistance and will not rot, absorb moisture, warp, or burn, resulting in significant life-cycle cost savings. While our steel scaffolding weighs less than the usual wood scaffold plank, it is stiffer across any given span, eliminating bounce and giving a more secure platform. These thick steel scaffold planks construct platforms that can handle enormous loads and movements.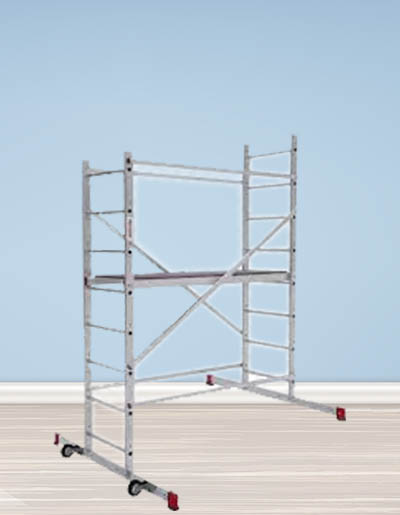 Despite the building's height, assembling steel scaffolds takes only a few minutes. It is because, while steel may appear hefty at first, it is engineered to be lightweight. They can be erected in much less time, and they are much easier to disassemble when a building project is finished. You stand to benefit greatly from this benefit because you will be able to work more efficiently and fulfill your deadlines, resulting in better time management. Even in the face of adverse weather conditions including, strong winds, heavy rain, and catastrophic earthquakes, their position and status remain unaffected. Therefore, before buying steel scaffolding, it is prudent to assess a company's reputation, experience, and dependability.
Shahid Industries is one of the largest steel scaffolding suppliers, and we have a solution for your organization's specific scaffolding needs. We sell a wide variety of scaffolding, including scaffold equipment and aluminum mobile towers, as well as scaffold ladders, fittings, and accessories.
Shahid Industries is the largest scaffolding Manufacturer and Supplier in UAE, Abu Dhabi, Dubai, Sharjah, Umm al-Qaiwain, Fujairah, Ajman, and Ra's al-Khaimah, can meet all of your scaffolding demands. Claw back your initial investment by amortizing the cost of purchase of your scaffolding system. Rental or Hire Scaffolding is also a great way to get started.