Medium Duty Aluminum Scaffolding UAE
Medium Duty Aluminum Scaffolding UAE is erected on-site and has lockable wheels or casters for simple transportation. If you need to operate from a height, this mobile-wide scaffolding is an excellent alternative. Its secure raised working platform is ideal for tasks like plastering and painting. It enables the operator to travel around the platform securely at all times. This scaffolding is safe and simple to build, but before you begin, inspect your job site to ensure that your scaffold is placed on an even surface. In windy conditions, do not attempt to move it. 
You may rely on Shahid Industries for your building projects. We are quickly establishing ourselves as the leading manufacturer and supplier of Aluminum and Steel Scaffoldings, Aluminum Ladders, Formwork, and other shuttering products such as construction materials and safety equipment. We assist our clients in reaching new heights on any construction or commercial site by providing goods with a solid foundation and a tight grip that can sustain high weights. We are delighted to assist you!!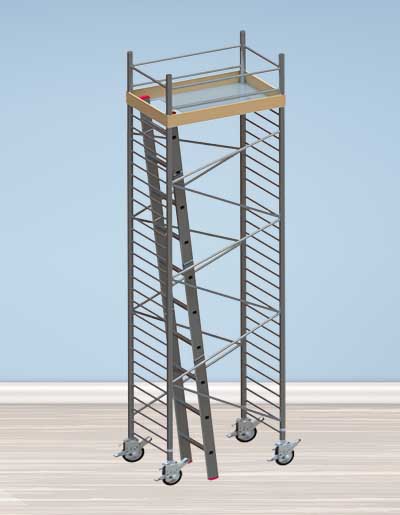 Our organization has successfully expanded its business in market owing to the offered elevated quality range of Medium Duty Aluminum Scaffolding. The Scaffolding from 360 Degree Global is manufactured with aluminum as the key ingredient.
Features:
Excellent strength
Easy to use
Rugged design
Specifications:
Aluminum single width scaffold 800 x 1200mm without staircase ladder
Aluminium double width scaffold 800 x 1200mm without staircase ladder