Scaffolding Ladders supplier | manufacturer UAE
Scaffolding Ladders supplier UAE is one of the most crucial items you can have. They're useful for getting to high places for storage, cleaning, painting, or maintenance. There are numerous various types of ladders to fit your needs, and many individuals purchase multiple ladders. Choosing the right ladder material for your work is critical for both the job's completion and your safety. The majority of ladders are made of aluminum or fiberglass, while others are made of wood. 
Aluminum ladders are lightweight and non-corrosive, making them easy to transport. These ladders are ideal for painting work around the house because they are lightweight. When you use fiberglass ladders, you will feel more stable because they are more sturdy, resistant to the elements, and heavier than aluminum ladders. Because fiberglass ladders are non-conductive, they can be used close to power lines and electrical wiring. They're also long-lasting, weather-resistant, flame-resistant, and made to last.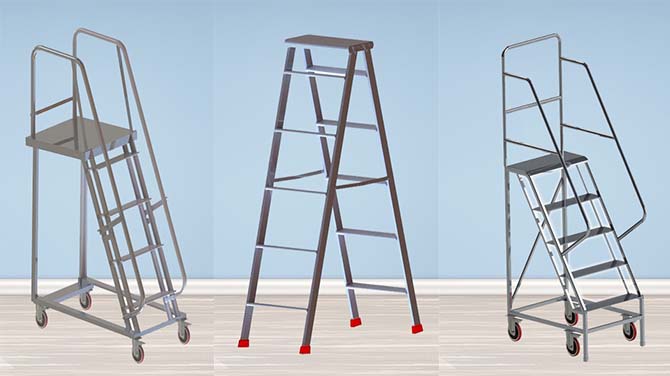 Scaffolding Ladders supplier UAE  come in a variety of shapes and sizes and come in use for a variety of purposes. Understanding the many types of ladders and their roles can help you make an educated decision, allowing you to do your activity more efficiently and safely. The types of ladders and their applications are listed below-
Step Ladders- 
This ladder is unique in that it may be used in almost any place. It is because it is self-supporting, which means it does not require any form of support. Step ladders are divided into two types: front step ladders and twin step ladders. The rungs on one side of this ladder are designed for climbing, whereas the other side is merely for support.
Platform Ladders- 
A front step ladder with a platform at the top step is known as a platform ladder. If you plan on standing on the ladder for an extended period, this ladder is ideal. The platform ladder keeps your feet from hurting and your shins from scratching against the following step. This ladder is advised if the project requires you to use both hands or if you need to rotate and work in all directions without causing any problems.
There are various others as well. Shahid Industries provides quality Scaffolding Ladders in Dubai at very reasonable rates. Our prices are the most competitive on the market with the highest level of quality and exceptional value. We are not confined to a single place; we are found throughout the Middle East.Shahid Industries is the largest scaffolding Manufacturer and Supplier in UAE, Abu Dhabi, Dubai, Sharjah, Umm al-Qaiwain, Fujairah, Ajman, and Ra's al-Khaimah, can meet all of your scaffolding demands. Claw back your initial investment by amortizing the cost of purchase of your scaffolding system. Rental or Hire Scaffolding is also a great way to get started.