ALUMINUM STAIRWAY TOWER UAE
Aluminum Stairway Tower UAE is less difficult to build up and carry from one location to another. The safety of this stairway scaffolding is enhanced by the equipment and is almost maintenance-free. Because of its weather resilience, it is a great product for performing outdoor activities and is both adaptable and long-lasting. Also, the corrosion and rust resistance improve equipment safety and longevity and makes it frequently utilized in the trade industry. 
The additional safety precautions provided by the support braces and platforms make the tower more secure for a longer lifespan. The aluminum tower's platform has a loading capacity of 20 kilo/m with a non-slip tread surface. Its quality frequently surpasses its cost. 
Shahid Industries is indeed a very professional firm that works hard to provide an amazing choice of Aluminum Scaffoldings. The combination of our excellent services and inexpensive rates allows us to stand out from the crowd and establish a positive brand image in the market.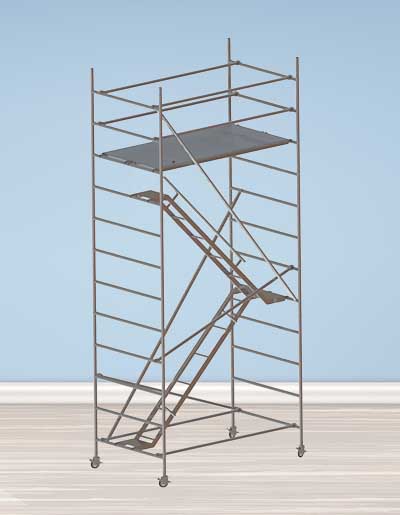 Technical Specifications :-
Length : 2.50 Mtr
Width : 1.45 Mtr
Height : 2.oo Mtr , 1.00 Mtr & 1.5 Mtr
Frames Height : 2.00 Mtr , 1.00 Mtr & 1.5 Mtr
Stairs: Internal Aluminum Staircase
Castor Wheels: 2oo mm with Jack & 150mm with Jack without Jack
Wooden Platforms = Standard Platform & Trapdoor Platform Maximum load per Platform 225 kg and for the entire tower is 600 kg including tower