Steel Props Jacks Supplier UAE
 Steel Props Jacks supplier UAE  are high-quality welded steel tubes with high wear and tear resistance. It can be applied to a variety of projects. These prop jacks are more popular than wood prop jacks because of their accurate leveling, quick and secure mounting, and long endurance. They are simple to install and can be utilized in both residential and commercial structures. Steel prop jacks are frequently utilized in the construction, remodeling, demolition, and maintenance industries. Pure dimensions, exactness, robust construction, and excellent performance are only a few of the features.
Choosing the correct prop jack is crucial for any company. Clients can share their load capacity information with the manufacturer and receive an adjustable prop jack that meets their needs. All of our Steel Props Jacks supplier/manufacturer UAE  are made from the highest quality raw materials. There are a variety of low-cost lightweight prop jacks on the market.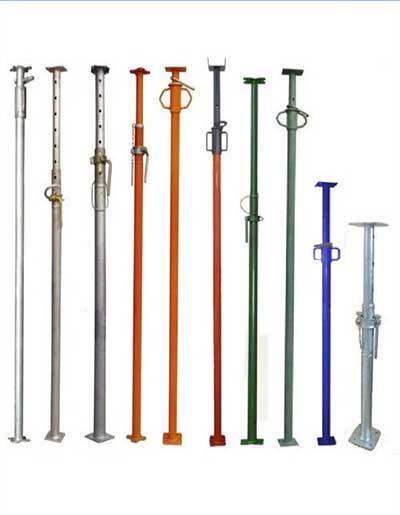 When completely braced, they can support a full load of cup locks. These jacks are simple to set up and have a wide range of applications in the construction industry. All of the steel prop jacks we offer are fully adjustable to meet the needs of our customers. The steel jack is a type of jacking device that can be used at the top or bottom of a scaffold structure. They are ideal for building construction sites, building material sites, and residential project sites.
Steel Prop Jacks Have the Following Features: 
Our highly robust and well-manufactured Steel prop jacks have the following features:
Exceptional load-bearing capacity

Excellent long-term durability

Durable construction

Pure Dimensions 

Robust construction

Excellent Performance 

Sturdiness 

Adjustable to Various Height Requirements 

Ease of Installation
Our steel jacks are simple to set up and offer a large weight capacity. If you've never used them before, it won't take long to figure out how to set them up. These steel jacks can withstand strong construction and save time for building personnel. They are popular among consumers due to their lightweight and affordable cost. They are commonly used in industrial, commercial, and infrastructure construction, such as highway roads, bridges, and so on. 
Make Us Your Scaffolding Partner –
Shahid Industries offers an unrivaled selection of steel prop jacks that are made from exquisite, high-quality materials. They might range in size from petite to plus size, according to the needs of our clientele. At different heights, the loading capacity of these prop jacks varies depending on their size. You can also acquire an adjustable and bespoke steel prop jack by giving your loading information, such as the slab and desired floor height.
Our objective is to provide the construction industry with the highest-quality goods that will protect the safety of their workers while also allowing them to grow their business. Our premier manufacturing and supplying company offers prop jacks in various technical specifications at competitive costs in this challenging business environment. We are capturing the hearts of our clientele with our scaffolding business knowledge. This characteristic of our company has allowed us to survive in this highly competitive market for many years.
Shahid Industries is the largest scaffolding Manufacturer and Supplier in UAE, Abu Dhabi, Dubai, Sharjah, Umm al-Qaiwain, Fujairah, Ajman, and Ra's al-Khaimah, can meet all of your scaffolding demands. Claw back your initial investment by amortizing the cost of purchase of your scaffolding system. Rental or Hire Scaffolding is also a great way to get started.