Double Width Aluminum Scaffolding UAE
Double Width Aluminum Scaffolding UAE enables trouble-free and simple access to various heights while also providing a solid platform. It is constructed utilizing several aluminum ladder frames while maintaining strong connections by meticulously welding all seams. Our double-width aluminum tower is light in weight, allowing for easier transportation. The rungs and frames of the tower give a strong grip for climbing while also preventing debris from sticking to the surface.
The manufacturing and design of our scaffoldings are done to fulfill the needs of the Construction, Industrial, and Manufacturing trade industries. Every frame is a ladder frame that has been built for greater performance and maximum strength to improve worker safety. The platform features a large working space and the ability to change the heights by adding extra platforms.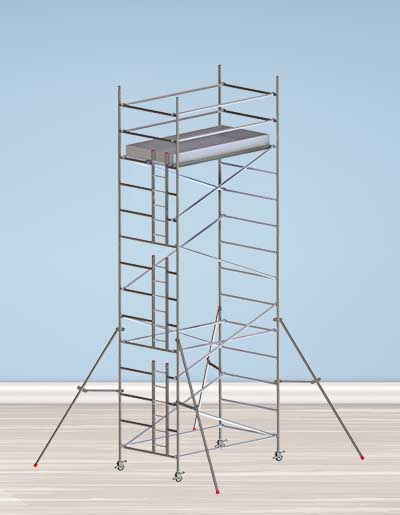 Shahid Industries assists building and construction firms with outside access solutions and safe scaffolding supplies. Every time we provide our items to a customer, we ensure that they may trust us and make full use of our products. We gave them the greatest after-sales service.
Technical Specifications:-
Length: 1.45 Mtr Double width tower
Width : 2.50 Mtr
Height: 2.00 Mtr to 15.00 Mtr
Frames Heights: 2.00 Mtr, 1.00 Mtr
Castor Wheels: 200mm with Jack & 150mm with Jack or without Jack
Wooden Platform = Standard Platform & Trapdoor Platform Maximum load per platform 225 kg and for the entire tower is 600 kg inching Tower