Scaffolding For Hoardings Grandstands And Events
The scaffolding items design and developed for the event managers (hoardings, grand stands, etc.) are the main highlighting points in our portfolio. Experts at Shahid Industries are the ones responsible for offering extensive services including maintenance, testing and inspection. Thanks to them we have been labeled as the most prominent and trustworthy Manufacturers, Suppliers and Exporters of scaffolding units in Dubai (UAE).
Our thirst for perfection has made us the best in terms of scaffolding through optimizing all the technological advancements. Whenever you need maintenance, testing or any inspection of grandstands and hoarding scaffolding items, you can always reach out to us.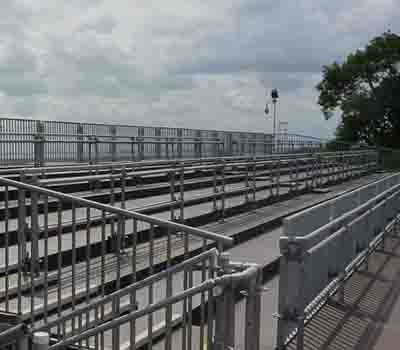 At Shahid, we are in the motion of transforming your dream to reality. Shahid Industries offer complete solutions for all your queries and needs in UAE and all over. From Electromechanical Companies to Steel Works, Insulation Companies to Events and Stages, Oil and Gas Onshore to Power Generation in Dubai and Abu Dhabi, Our skilled experts provide with all the details to setup the events you want to conduct. We are a combination of perfect elements to create an experience for you that is embarked by your style. We prefer originality and creativity; we won't get you those pale ideas. Our work is extraordinary and fresh. We'll create an unforgettable experience for you. You shall enjoy every minute of it.
Our dedicated team of experts is the real reason for all the extensive experience. We believe in offering clients the best level of service. Through the combination of great vision and focus, we believe in creating a truly worth experience for you. Shahid Industries is one of the best Scaffolding/ Event Staging Companies in Abu Dhabi and Dubai.
We not only possess a highly skilled team of individuals but also have in house customized fabrication and production. We are a renowned Scaffolding and Event company in Dubai and Abu Dhabi for our class and services.
Increasing customer value is our main aim with safety in background.