Aluminum Foldable Scaffolding Tower UAE
Aluminum Foldable Scaffolding Tower UAE is built with a large storage capacity to facilitate material transportation. The folding mechanism of this scaffolding allows for simple storage, and a single person can simply construct and disassemble it. This foldable scaffolding is entirely welded and has caster wheels with a dual brake system for easy mobility. While working on this scaffolding, we assure your safety.
It is suitable for usage in tiny working spaces due to its compact size and lightweight. Because of its feature of folding and unfolding, it is much easier to travel through a standard door. The wheels on this foldable scaffolding feature an anti-slip surface and are ideal for indoor work. The adjustable platform height allows you to operate it at a variety of heights.
Shahid Industries produces and distributes scaffolding items that are thoroughly tested and licensed. The aluminum foldable scaffoldings UAE. we manufacture are useful for interior work since it has special properties that allow users to operate more effectively and pleasantly.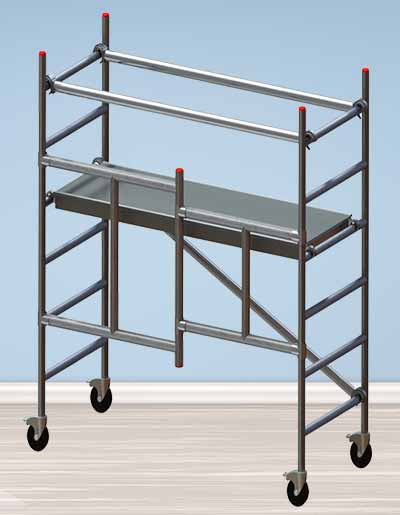 Technical Specifications :-
Length : 0.80 Mtr
Width : 1.80 Mtr
Height : 2.00 Mtr to 3.00 Mtr
Frames Height : 2.00 Mtr , 1.00 Mtr & 1.5 Mtr
Foldable Case : Aluminum Foldable Case
Castor Wheels : 200mm with Jack or without Jack
Wooden Platform = Standard Platform & Trapdoor Platform Maximum load per Platform 225 kg and for the entire tower is 600 kg including tower To